On family drama, in-laws, and arguments over religion
Photographic models: Yael and Elon Hyman
Background
Ruth and David are a young Jewish couple, married six months, who have moved to Israel, live in city of Ra'anana and are approaching their first Passover together.  Ruth teaches English in a secular junior high and Jewish history in an afternoon Hebrew school. David is a software developer. They are faced with a painful dilemma: should they spend the holiday with Ruth's mother, a widow with no children who also lives in Ra'anana, or should they visit David's family, thousands of miles away, in Boston? Each wants to be with his own family.
Ruth: David, my students are already talking about Passover vacation. Don't you think it's time we talked about what we're going to do for Passover?
David: There's nothing to talk about.  My parents are expecting us to come to Boston this Passover. It's been months since I saw my brother and sister, some of the cousins will be there… It's going to be great! And you know how much we love Boston.
Ruth: Hold on, David. I haven't agreed to anything.  My Mom will be all alone and I don't want to leave her for Passover.
David: But we're with her all the time....
Ruth: Because she has nobody else here.  How can I enjoy being with your family on Passover knowing that she's all alone? Can you understand that?
David: No, I don't. It's not fair. Every holiday we'll have to spend with your mother because she's alone. We're here for the high holidays and on Hanuka we were here the entire holiday and only went to Boston for a week, after it was over. We almost never see my family!
Ruth: Well, maybe we can visit your family some other time - not during the holidays - like during the summer. 
David: You're a teacher. That's fine for you. I can't always get away during the summer, not to mention the huge difference in air fare then! Besides, the whole family's going to be there this year.  You know that only happens on Passover.  And it's so special.  You know my Mom.  The second she finishes running the synagogue Purim carnival, she starts planning for Passover.  It's like she was born to do Passover. We have a lot of fun and the thought of her food makes my mouth water…You want me to trade that for the two of us and your mother in her one bedroom apartment?  It will be a very lonely holiday.
Ruth: David, don't be so selfish. That's exactly why she needs us, so it won't be a lonely holiday for her. Is that all that matters to you - food?
David: Oh come off it and don't preach to me! Doesn't she have any friends she can spend it with? Or she can come with us!
Ruth: You know all her close friends spend the holidays with their children, and she's afraid of flying. I barely got her to Israel, and she swore that it was a one-way trip!  What am I supposed to do? Send an elderly woman to a Passover seder with second degree cousins once removed in Tel Aviv she never sees, when I'm right around the corner? 
David: She's not that old. She's only sixty-five and she's not helpless. And the way you fight with her when you're together, I didn't know you cared so much.  Ruth, I married you, I didn't marry your mother. It's not fair that I have to be miserable for Passover because you feel guilty about leaving her. She always wanted to join you here but your dad got sick so she only came after he passed away. I'm happy for her and for you that she's here, but I miss my family. And they're more traditional in their religious practices, not like your Mom. Come on, Ruth, we'll have such a great time with them.
Ruth: What does religion have to do with? It's not her fault she wasn't raised with more religion. And my lack of religion never bothered you before. When did you get into religion? We talked about this before we came, how moving to Israel didn't mean I'd have to become Orthodox!
David: Look, I don't want to deal with that issue now. But how about if I speak to my parents about having your Mom come to Boston with us?
Ruth: No, let's settle this religion issue! I really resent your attitude of superiority! And besides, who are you to talk? Half the relatives at your parents' table won't be Jewish! 
David: Since when are you so holy?
Ruth: Well, since your family grew up with so much tradition, isn't it surprising that so many intermarried? Your nieces, your cousins…Maybe they're all rebelling. Maybe that's what too much religion can do to people!
David: How would you know!
Ruth: David! You are such a hypocrite! I don't think you even knew I was Jewish when you started to date me!
David: Well, that was only dating…
Ruth: And being more traditional doesn't make people better people! Look at your sister! She's a world class witch!
David: Stop it! You're always coming down on my sister! What did she ever do to you?!
Ruth: She makes me feel like an outsider. And she makes my mother feel like an outsider, too, which is why I wouldn't ask her to come with us, even if she weren't afraid of flying.
David: What are you really saying, Ruth?  What do you mean you feel like an outsider?
Ruth: I always feel like a non-person when I'm around your family. And it isn't just because of this religion thing. That's only an excuse. For you, it's a warm, loving family. You're God to them...
David: What do you mean? My parents are always nice to you.
Ruth: Oh sure, they say all the right things but they've never really treated me like one of you. I'm not good enough for you. I'm not from their crowd. They don't let me forget that it was their money that paid for our wedding.
David: Oh, that's nonesense!
Ruth: You think that's nonesense? Let's face it David -- do you remember how your mother insulted my mother at the wedding when she said, "Oh Ann, what a lovely gown. Did you get it at a discount house?" My mother almost died.
Face it, your family doesn't like me and I want to be with people who love me, especially at Passover.
David: They never ever said anything bad to me about you.
Ruth: They don't have to say it, David. I can see it from the look in their eyes, the way they talk to me.  They've never accepted me…
David: So I've got to be miserable because you think my family can't stand you...
Ruth: So I've got to be miserable? I just knew this would happen one day...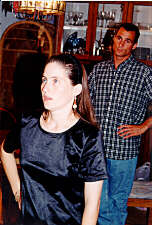 WHERE WILL WE GO FOR PASSOVER? Ruth Comments:
Well, maybe it's just as well that this finally came out in the open. I can't stand being with his family. They treat me like a total outsider and he can't see it! What a way to spend our first Passover together. I wanted it to be so special...
And here's my mom, all alone. On the one hand, I'd be leaving her and she'd be unhappy and on the other hand, it's not even like I'll be enjoying myself. My mom knows the way I feel, so she's not going to think, "Well, they're not with me, but at least Ruth's happy." What's the point of going? Just so David can spend more time with his family?
He probably thinks that I'm just jealous because their seders are so much more traditional. What right does he have to feel superior? I might have only one brother, and maybe he doesn't make a big deal about Passover, but at least his wife is the same religion. I resent the way David's family always make me feel like I'm not good enough, but I don't want him to feel like I'm taking him away from them. I really love him and want him to be happy. How can we solve this?
WHERE WILL WE GO FOR PASSOVER? David Comments:
I don't know what's going on here! First, she's all upset about going to my parents' home for Passover because she's worried about her mother, and then what I find out is that she thinks my family hates her. I'm really worried. This is a big problem. I'm real close to them and I feel torn now between Ruth and my folks. I don't want to lose contact with them, but I really love Ruth and I don't want her to be unhappy, especially on Passover.
It's really hard for me to believe that they don't like her. I never saw it. And that stuff about money. I don't remember them raising me with any kind of snobbishness.Maybe she's just envious because I have such a close family and we're all so loving with one another. I know it's hard for her. Her father is dead and her mother is depressed most of the time.
And what's her problem with all my non-Jewish relatives all of a sudden? Who is she to talk? She grew up with so little religious practice…
Should I talk to my parents about this? I really don't know what to do. Should I say to them directly: "You know, Ruth thinks that you don't like her?"
I guess I can understand the part about her feeling kind of out of it. We're a real close family and it's sort of hard to break into. Maybe that's why she thinks that they don't like her. But I really look forward to this time of the year. It used to be the time I feel most Jewish. Although it is kind of different now, with so many people at our table who aren't, but what can I do about that? Anyway, that's not the main problem here…
WHERE WILL WE GO FOR PASSOVER? Dr. Michael Tobin Comments:

This conflict is definitely not about religion. True, David may want to be more in touch with his family who have stronger Jewish roots than Ruth, but that's not the source of their problem. It's much more universal and "traditional" than that.
One of the first things that a young couple learns is that you don't only marry your partner - you marry a whole system. And David and Ruth are a perfect example of that. The first challenge facing any young couple is separating from their respective families of origin and creating a new family, which is their relationship. That must be their highest priority.
Ruth's not the first daughter-in-law who is convinced her in-laws hate her. It's a rare mother-in-law who doesn't feel a bit resentful toward the strange woman who stole her beloved prince. In this all too familiar family drama, it's David's job to support Ruth and to help her to feel comfortable with his family. To do that he must cultivate a very light and subtle touch. If he's forced to choose between Ruth and his family, then he'll lose everything. If he chooses Ruth, he loses the family. If he chooses the family, he loses Ruth.
So what's the answer?
David said it. He needs to talk to them about Ruth's feelings. Maybe she's right. Maybe they do intensely dislike her. If so, then his loyalty will definitely be put to the test. The more likely scenario, however, is that they don't hate her and were just unaware of having excluded her. They may decide to make extra efforts to make her feel welcome.
If so, this young couple will have passed the first of many marital hurdles.
Wherever you spend it, may your holiday be a joyous one!